Should Buyers Wait to Buy?
Median Sales Price $390K, up 32% from 2020
For Buyers:
There's a lot of conflicting advice for buyers online these days, and there's no shortage of headlines advising them to wait. Many authors cite the unpleasantness of multiple competing offers and rising prices as the reason to wait out the market. This is despite their acknowledgment that home values are not expected to stop rising in the near future and that interest rates are expected to eventually rise.
It's undeniably more pleasant to purchase a home when there's a plethora to choose from and you're the only game in town, however there's a reason you may be the only buyer in that scenario. That's the end of a Seller Market, and signifies the top of price.
The top of price is either the beginning of a Balanced Market or a Buyer Market, which either way means the end of exciting annual appreciation rates. There's a misconception that waiting for a Buyer Market to buy a home is a good idea. This is not true. Home values decline in Buyer Markets because, by definition, there are more homes than buyers to buy them. While that sounds like a magical dream land these days, the reality is that no one likes to purchase a home and watch its value decline or go flat. Ironically, if you want your home to appreciate right after you buy it, then you want to buy in a Seller Market. Perhaps we should rename Seller Markets "Winner Markets", because both buyers and sellers win in a sense.
Admittedly, the extreme Seller Market Greater Phoenix is experiencing doesn't feel like "winning", but there is some relief on the horizon. The market has been losing strength since mid-March, but it's not plummeting. At it's current rate of decline, the Greater Phoenix market is still projected to remain in a Seller Market for 16 months. That's a target of October 2022 before prices stop rising. As the Seller Market weakens, appreciation rates will still be positive moving forward but there will be a little more supply to accommodate demand. My advice to buyers frustrated with the market, don't wait for the market to balance out. Take a breath, take a vacation, but don't give up. Change is subtle.
For Sellers:
Typically this time of year we start talking about the imminent "Summer Slowdown" in contract activity as kids are out of school and people take vacations to escape the heat. Last year, the Greater Phoenix market didn't experience this typical seasonal trend. As trips were cancelled and people stayed home, there was a large surge in purchase contract activity that continued through the end of the year. This year, as people are getting back to some form of normalcy, it looks like we will see a seasonal slowdown in buyer activity once again. If the trend continues and the market follows previous years, we should expect contract activity to slowly decline through the end of the year.
The seasonal slowdown is typically nothing to be concerned about, mainly because there tends to be a dip in new listings as well. However this year there's an event coming up that could alter that scenario, that is the end of forbearance for many homeowners. While the vast majority of forbearances have ended with homeowners staying in their home, anywhere from 16%-20% have resorted to selling their home one way or another according to the Mortgage Bankers Association. This could result in an increase in supply over the next few months, adding extra days of marketing time to your listing and possibly a few price reductions. Stay tuned.
-----------------------------------------------------------------------------------------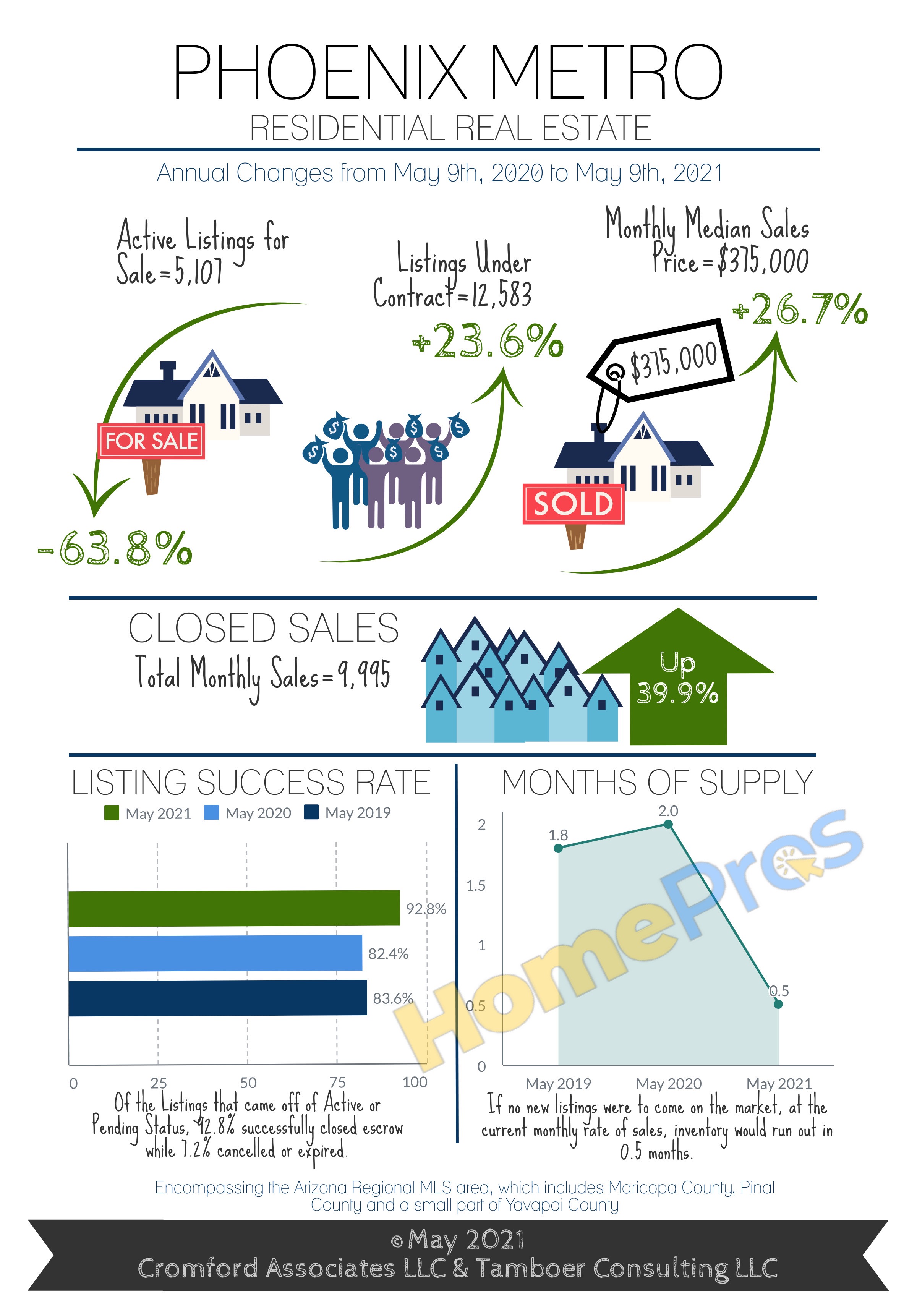 62.8% of Homes Sold Considered Affordable Last Quarter
Median Sales Price Up 27%, Incomes Up 26%
For Buyers:
Despite all the incredible news about rising real estate prices, a family making the median income of $79,000 in Greater Phoenix could still afford 62.8% of what sold in the first quarter of 2021. The National Association of Home Builders (NAHB.org) assumes that "a family can afford to spend 28% of its gross income on housing." That means 62.8% of homes sold cost their new owners $1,843 per month or less assuming a 10% down payment and including principal, interest, taxes and insurance. According to HUD, $79,000 represents a 26% increase in the local median annual income over the past 5 years; up $16,500 from $62,500 in 2016.
While reassuring, it doesn't remove the frustrations of competing for homes in this marketplace. Last month, 56% of all sales closed over asking price and half of them went $15,000 over or more to win. For the last 7 weeks, half of all listings that went under contract in the MLS were active for just 6 days or less.
However, the last few months have shown a glimmer of relief for buyers as supply counts actually stopped declining; and in price ranges between $500K-$800K they have noticeably increased 40% since February. Supply is still 69% lower than last year at this time so there's a long way to go before it's considered normal, but it's something.
For Sellers:
You're not going to notice this, but the housing market has begun to cool down. It's still hot however, like 400 degrees is still hot despite being cooler than 500 degrees. Sellers can still expect multiple offers and closings over asking price; however it's important to note that supply has stopped dropping and has been rising in certain price points over $500K. Seasonally speaking, Greater Phoenix supply should be dropping at this time of year, not going flat or rising. When measures go against the season, it can be the beginning of a shift.
The reason this shift will not be noticed is because supply is still much lower than demand, so any slight increase in competition is inconsequential to a seller's ability to secure a buyer, even one willing to pay over asking price. One of the early indicators that a market is shifting, however, is the number of list price reductions. For example, supply between $600K-$800K has risen 45% since late February; in the same time frame, the number of weekly price reductions increased 223% and hit the highest count taken in nearly 6 months. That's notable. However in other price points where supply has flattened out, price reductions have remained low and stable.
The advantage in any market, not just housing, is being one of the first to know when things are shifting. Especially today, it's a good idea to consult a Realtor® who can analyze your price point and area so you can make an informed decision regarding the sale of your home.
Commentary written by Tina Tamboer, Senior Housing Analyst with The Cromford Report
©2020 Cromford Associates LLC and Tamboer Consulting LLC
Testimonials
" Very professional, dedicated, approachable and patient. He provided options according to our needs. His support made the process smooth and gave all the information in a clear manner. Totally recommended! "
- suhaelygm
" Thank you for everything Josh, I really appreciate what you have done and contributed towards us getting this house .... and keep in touch. "
- Jennifer & Chad
" Luis was very helpful to us, he was very professional and always responded to our messages within reasonable time. We looked at many houses and drove many miles Luis always did his best to be attentive to our needs even in this competitive market. In the end we got the home we really wanted. Thanks Luis, we definitely recommend him. "
- bryanjk1234
" Thank you so much Josh for all your help, from beginning to end. We will definitely keep you in mind for our next chapter. Martin and I appreciate you! "
- sadame1988
" Wonderful person to work with!! Very knowledgeable, flexible and charismatic. He help us find the best home according to our finances and we are very happy with the purchase. "
- Lizania Arcia Lopez
" Thank you so much Josh for all your help, from beginning to end. We will definitely keep you in mind for our next chapter. Martin and I appreciate you! "
- sadame1988
" Luis Ornelas expressed knowledge, advice ans guidance during my purchase and sale. He was very patient and was able to provide answers at anytime by a call or text. Luis provides the best service by also staying flexible with my work schedule and was wiling to visit a number of homes per day all over Arizona in order to find my dream "
- ashleymontoyavelarde
" "He treated me like family, he was super patient with me, for a first time buyer he explain everything. Any time I had a question (no matter how silly and repetitive it was) he was available day or night. He also helped me sell my house, and when I tell you he made the process easy and smooth. I highly recommend him." "
- David Arcos
" Luis was really helpful. I would totally recommend him to other people. He was always so attentive to us and we're always make room for us to show us homes. "
- adriana41194
" Thank you for everything Josh, I really appreciate what you have done and contributed towards us getting this house .... and keep in touch. "
- Jennifer and Chad
Previous
Next